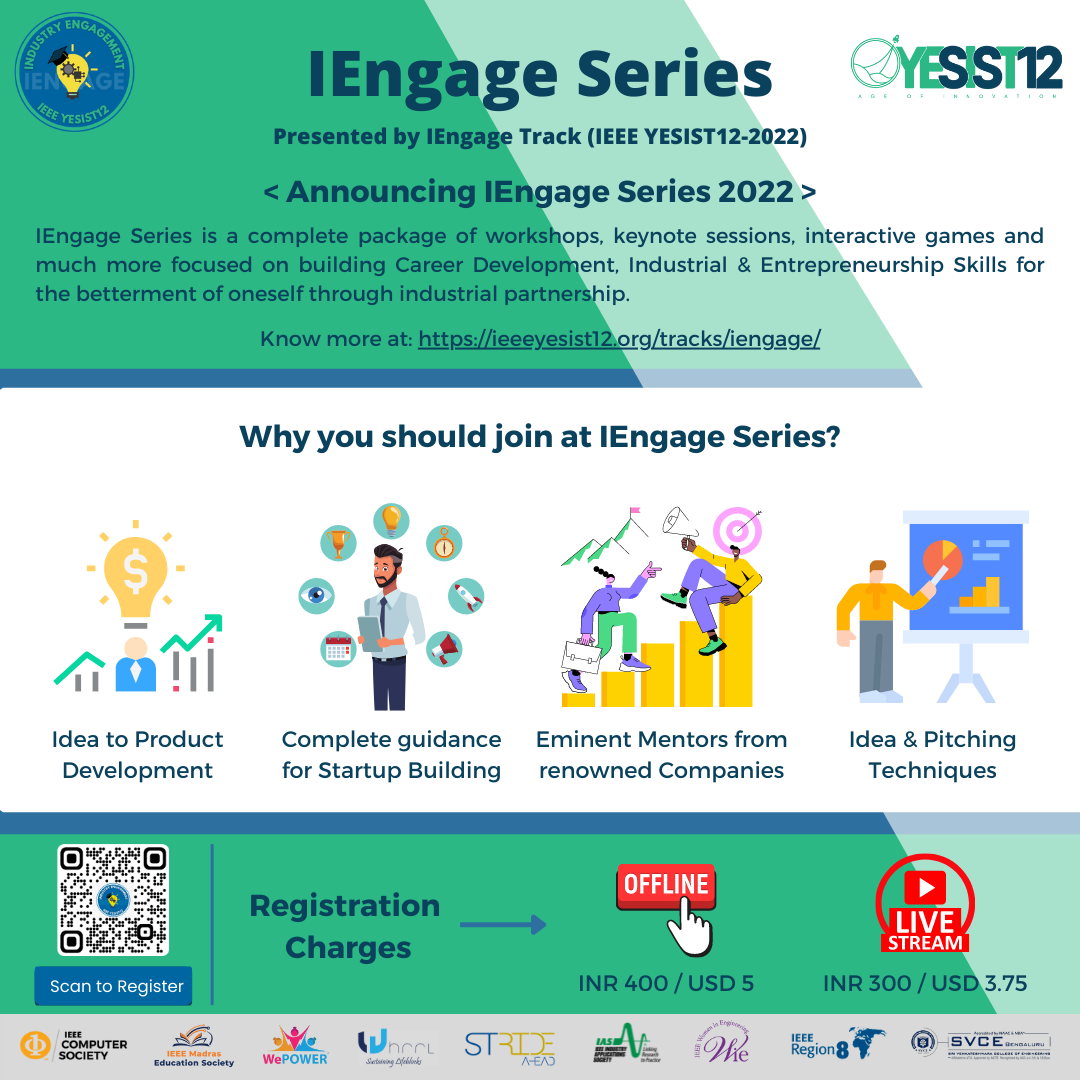 IEngage Series
𝐓𝐡𝐞 𝐛𝐞𝐬𝐭 𝐰𝐚𝐲 𝐭𝐨 𝐩𝐫𝐞𝐝𝐢𝐜𝐭 𝐭𝐡𝐞 𝐟𝐮𝐭𝐮𝐫𝐞 𝐢𝐬 𝐭𝐨 𝐜𝐫𝐞𝐚𝐭𝐞 𝐢𝐭.
👨‍💼 Greetings to Aspiring Entrepreneurs!!!
🧐Are you the one who is looking for a best platform to learn and grow your innovation into a startup?
We are ready to build your entrepreneurship journey.
🕵🏼‍♂️IEngage from IEEE YESIST12 is coming at you with a brand new workshop series "IEngage Series" which is a complete package of workshops, keynote sessions, interactive games and much more focused on building Career Development, Industrial & Entrepreneurship Skills for the betterment of oneself through industrial partnership.
⚙️IEngage Track (Industry Engagement) – an unique track of IEEE YESIST12 with the keen focus to bridge the gap between Industry and Students' community.
What can you expect from us at IEngage Series?
💡Idea to Product Development
💡Complete guidance for startup building
💡Eminent Mentors from Renowned Companies
💡Idea & Pitching Techniques
🤔Are you ready to learn and become next gen entrepreneur?
𝐕𝐞𝐧𝐮𝐞: Both Online 💻& Offline 💼
𝐃𝐚𝐭𝐞: 10th & 11th September 2022
Register at https://www.townscript.com/e/ieee-yesist12-2022-iengage-series
For more details visit https://ieeeyesist12.org/tracks/iengage/
#industry #engineering #technology #business #innovation #ieee #ieeeyesist12 #iengage #innovation #startup #entrepreneurship