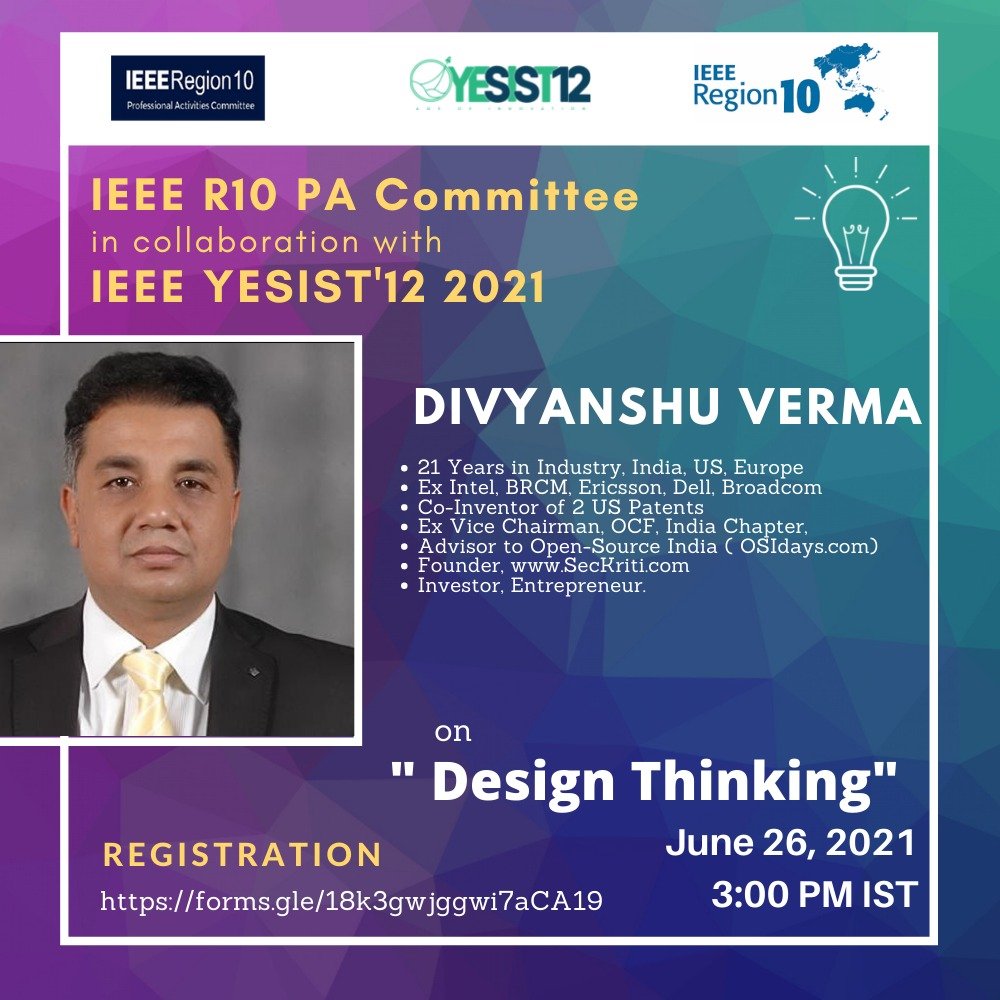 virtual keynote on "𝐃𝐞𝐬𝐢𝐠𝐧𝐓𝐡𝐢𝐧𝐤𝐢𝐧𝐠"
Greetings from 𝐈𝐄𝐄𝐄 𝐑𝟏𝟎 𝐏𝐫𝐨𝐟𝐞𝐬𝐬𝐢𝐨𝐧𝐚𝐥 𝐀𝐜𝐭𝐢𝐯𝐢𝐭𝐢𝐞𝐬 (𝐏𝐀) 𝐂𝐨𝐦𝐦𝐢𝐭𝐭𝐞𝐞!
IEEE R10 PA Committee in collaboration with IEEE YESIST12 IC Track'21 is delighted to organize a virtual keynote on "𝐃𝐞𝐬𝐢𝐠𝐧𝐓𝐡𝐢𝐧𝐤𝐢𝐧𝐠", on 𝟐𝟔𝐭𝐡 𝐉𝐮𝐧𝐞 𝟐𝟎𝟐𝟏 𝐚𝐭 𝟑:𝟎𝟎 𝐏𝐌 (India Standard Time).
𝐒𝐩𝐞𝐚𝐤𝐞𝐫: 𝑴𝒓. 𝑫𝒊𝒗𝒚𝒂𝒏𝒔𝒉𝒖 𝑽𝒆𝒓𝒎𝒂, 𝐻𝑎𝑣𝑖𝑛𝑔 21 𝑦𝑒𝑎𝑟𝑠 𝑜𝑓 𝑤𝑜𝑟𝑘 𝑒𝑥𝑝𝑒𝑟𝑖𝑒𝑛𝑐𝑒 𝑖𝑛 𝑖𝑛𝑑𝑢𝑠𝑡𝑟𝑖𝑒𝑠 𝑙𝑖𝑘𝑒 𝐼𝑛𝑡𝑒𝑙, 𝐵𝑅𝐶𝑀, 𝐸𝑟𝑖𝑐𝑠𝑠𝑜𝑛, 𝐷𝑒𝑙𝑙, 𝐵𝑟𝑜𝑎𝑑𝑐𝑜𝑚, 𝑒𝑡𝑐. 𝑖𝑛 𝐼𝑛𝑑𝑖𝑎, 𝑡ℎ𝑒 𝑈𝑆 & 𝐸𝑢𝑟𝑜𝑝𝑒. 𝐻𝑒 𝑖𝑠 𝑡ℎ𝑒 𝑐𝑜-𝑖𝑛𝑣𝑒𝑛𝑡𝑜𝑟 𝑜𝑓 𝑡𝑤𝑜 𝑈𝑆 𝑃𝑎𝑡𝑒𝑛𝑡𝑠 𝑎𝑛𝑑 𝑙𝑒𝑑 𝑚𝑢𝑙𝑡𝑖𝑝𝑙𝑒 𝐺𝑙𝑜𝑏𝑎𝑙 𝑃𝑟𝑜𝑑𝑢𝑐𝑡𝑠 𝑖𝑛 𝑁𝑒𝑡𝑤𝑜𝑟𝑘𝑖𝑛𝑔, 𝑊𝑖𝑟𝑒𝑙𝑒𝑠𝑠, 𝑎𝑛𝑑 𝑆𝑒𝑐𝑢𝑟𝑖𝑡𝑦. 𝐻𝑒 𝑖𝑠 𝑡ℎ𝑒 𝑒𝑥-𝑣𝑖𝑐𝑒 𝑐ℎ𝑎𝑖𝑟𝑚𝑎𝑛 𝑜𝑓 𝑡ℎ𝑒 𝑂𝐹𝐶 𝐼𝑛𝑑𝑖𝑎 𝐶ℎ𝑎𝑝𝑡𝑒𝑟 𝑎𝑠 𝑤𝑒𝑙𝑙 𝑎𝑠 𝑎𝑛 𝑎𝑑𝑣𝑖𝑠𝑜𝑟 𝑡𝑜 𝑂𝑝𝑒𝑛-𝑆𝑜𝑢𝑟𝑐𝑒 𝐼𝑛𝑑𝑖𝑎. 𝐻𝑒 𝑖𝑠 𝑎𝑙𝑠𝑜 𝑎 𝑠𝑢𝑐𝑐𝑒𝑠𝑠𝑓𝑢𝑙 𝐼𝑛𝑣𝑒𝑠𝑡𝑜𝑟 & 𝐸𝑛𝑡𝑟𝑒𝑝𝑟𝑒𝑛𝑒𝑢𝑟.
𝐑𝐞𝐠𝐢𝐬𝐭𝐫𝐚𝐭𝐢𝐨𝐧 𝐥𝐢𝐧𝐤: https://forms.gle/oTeWstzXyW3eGpum8
𝐂𝐡𝐢𝐞𝐟 𝐆𝐮𝐞𝐬𝐭: Dr. Ramalatha Marimuthu, Secretary(2021) & Board of Governors(2019-2021), IEEE Computer Society
𝐆𝐮𝐞𝐬𝐭 𝐨𝐟 𝐇𝐨𝐧𝐨𝐫: Dr. Sameer S M, Secretary, IEEE R10
𝐌𝐨𝐝𝐞𝐫𝐚𝐭𝐨𝐫: Parkash Lohana, Chair, IEEE R10 Professional Activities Committee
𝐓𝐨 𝐚𝐝𝐝 𝐦𝐨𝐫𝐞:
This year, Director R10 Mr. Deepak Mathur has set the thrust areas for all three main domains of IEEE R10, based on "Entrepreneurship and Career Development Programs" for the professional activities. IEEE R10 PAC plan to help the student members, young professionals, professionals & life members to enhance their professional development skills and entrepreneurship skills which may help them for their career development and may become great professionals & leaders in the respective domains.
And Innovation Challenge track of IEEE YESIST12 2021 is a talent show for passionate innovators among the students and young professionals in STEM to portray the innovative ideas that solve humanitarian and social issues prevailing among the community around them with a focus on developing entrepreneurship ecosystem through innovation.
𝐓𝐨 𝐛𝐞𝐜𝐨𝐦𝐞 𝐚 𝐩𝐚𝐫𝐭 𝐨𝐟 𝐭𝐡𝐢𝐬 𝐠𝐥𝐨𝐛𝐚𝐥 𝐈𝐧𝐧𝐨𝐯𝐚𝐭𝐨𝐫'𝐬 𝐬𝐡𝐨𝐰, 𝐣𝐨𝐢𝐧 𝐮𝐬 𝐭𝐨 𝐠𝐞𝐭 𝐫𝐞𝐠𝐢𝐬𝐭𝐞𝐫𝐞𝐝 𝐚𝐬 𝐚 𝐏𝐢𝐥𝐨𝐭: https://ieeeyesist12.org/ic-pilot-registration/
We look forward to your great support and participation in the event.